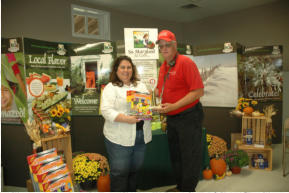 The Charles County Fair welcomes Commercial Exhibitors to the Fair each year. There are inside 8' x 8' spaces inside two main buildings that are used by individuals/businesses/Non-profits to promote their interests, as well as outside locations.
Indoor rentals are priced at $300.00 for an 8'x8' space. We have 70 indoor spaces located in two buildings. You are responsible for all display materials, including tables & chairs. A backdrop curtain and electrical outlets will be provided for each space. Outside rental spaces range from $500.00 for a 10'x10' space and range upward based on front footage.
Outside exhibitors must provide their own setup such as a tent, trailer, etc. Rates will be determined by space size, location and utilities required. Please specify on your application the required space dimensions (frontage and depth), and electrical load requirements.
Food concession rates are determined by amount of space required and variety and pricing of your menu. Vendors are required to have their own holding tanks. All vending equipment must be UL approved and all electric connections must be UL approved or 3rd party tested. You will also be required to obtain a county health department food service permit.
Exhibitors that are assigned indoor space must have personnel on duty at their exhibit at all times during hours the buildings are open. Exhibit Building hours are Thursday 5-10pm, Friday and Saturday 9am- 9pm, and Sunday 10am-7pm. Outside exhibitors must also have personnel on duty and may close down when the buildings close, or stay open until the Fair closes.
Food vendors are expected to operate until the Fair officially closes on Sunday at 6:00 pm. Preference is given to returning vendors and no contracts to new vendors can be issued until the closing dates for return of those previous years' vendors, usually the end of June. After that closing date the applications for new vendors will be reviewed and any approved vendors will be offered a contract.
If you are interested in becoming a vendor at our Fair, please review our Guidelines and Operating Procedures, and be sure that you are able to adhere to them before applying. If you would like to become part of this year's Fair, you should fill out the application (downloaded from below) and return it to the fair for consideration. It may be faxed to 301.934.6221, emailed to [email protected], or mailed to Charles County Fair, Inc. at P O Box 968, La Plata, MD 20646